From (15) March 2011-present
With the demise of the reliable Zx636, it was time for a new bike and after the brief departure from Kawaski's with the KTM, I decided to go back to what I knew and what I liked.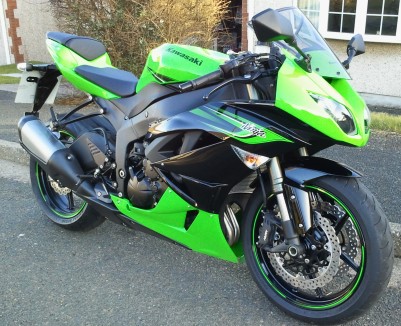 As a new ZX6R was just about to be released, I approached a couple of companies, one on the Isle of Man and the other near Southampton.
With a very small margin of dfference I decided to buy from a local dealer hence I became the first purchaser from the new Kawasaki franchise run by Jason Griffiths in Castletown.
Now came the arduous and extremely boring job of running it in so it could have its first service before I went away - only some 10 days away!
There are only so many roads on the Island and even working out the longest coastal route there is, it took about 10 laps of the Island to reach 600 miles!
Serviced and ready to go, I left the Island on 29th March for the first trip away on my new toy.