From: May 1981 - c1992
Cost: £600.00
Reg: JYH 635W
Mileage: c21000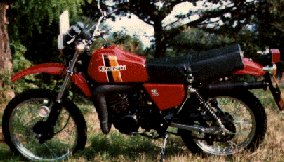 This was the first motorbike I ever bought.
Learned to ride and passed ACU/RAC off-road test before taking old-style road test where a man walks around a square block & jumps out in front of you.
Originally bought to help my brother, Brian, pass his road test but I liked it so much, I kept it for myself!
I bought this from Harvey Owen in Walworth road, SE17. The original agreement was that they would deliver it to a training site near St Pancras station on the Saturday I was booked to take my first lesson with the RAC/ACU instructors.
On the Friday night, I went down to complete payment and ensure everything was OK for the weekend only to be told they could no longer deliver it in time for the start of my course. Great!
So, having never riden a motorbike before in my life, I was given about 30 minutes instruction in the back yard and side road leading to the shop before I set off alone in the Friday evening rush-hour traffic of London.
Now, I had already passed my car test some years earlier so I knew how to drive and the rules of the road but negotiating the Elephant and Castle and then Waterloo bridge roundabout was not really playing fair, was it?
Somehow, I made it back to my flat and locked it up against a drainpipe of the neighbouring block of flats.